ves·per (vês´per) n. <L> 1. evening; eventide 2. an evening prayer service, etc. 3. the evening star, Venus
VESPER'S VINTAGE
RENAISSANCE STYLE FOR A MODERN WORLD
"If one is lucky, a solitary fantasy can totally transform one million realities." --Maya Angelou

THE HANDBAGS AND PURSES
CLICK ON IMAGES FOR CLOSER PICTURES

Item number: AP-006A
Price: $30.00

Description: WHITE BEADED HANDBAG WITH PEARL. Bag is in excellent condition. Inside is lined in a cream fabric. Bag measures 9½ inches, not including handle.


Item number: AP-006B
Price: $40.00

Description: LARGE WHITE BEADED HANDBAG. Handmade in Hong Kong, purse measures 10½ in. height (not including handle) and 10 in. at base. Lined in a cream fabric, I could find no flaws.


Item number: AP-006
Price: $25.00

Description: SMALL WHITE BEADED HANDBAG. This lovely little handbag is 7" high not counting the handle. There is a lipstick mark inside that should come out. Otherwise it is in great condition. This would make a great day bag as well as for the evening.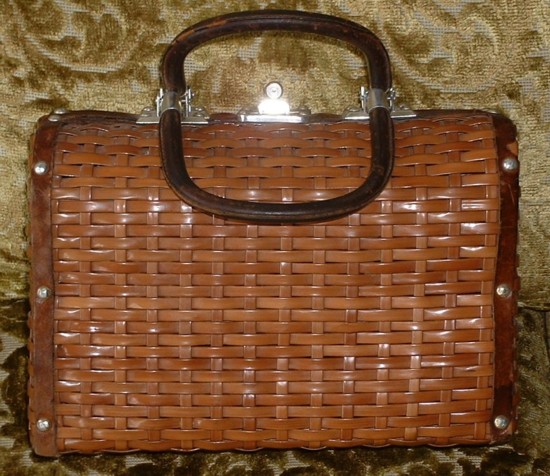 SOLD!!!!
Item number: AP-111E
Description: This brown wicker purse from the 50's is approximately 10 inches wide and approximately 7 inches high (not including handles. It is a tan plastic coated wicker with leather trim. The leather trim has the most amount of wear. Along the sides there is a bit of scuffing and a few water spots. The leather handle shows a bit of wear too. The clasp is in perfect working order and the handle is securely fastened as well. The inside lining is a cotton print. It is olive colour with little red pictures of anchors, lighthouses, boats and seahorses. The lining is in excellent condition for its age. There is also a tag on the lining that says "Handmade in British Hong Kong". The only problem really with this handbag is there are little sharp prongs that have poked through the fabric on the bottom of the handbag. These are the prongs from the tacks on the bottom of the handbag that hold the leather pieces on the bottom. This can easily be fixed by maybe putting a bottom in the purse or by putting some plastic caps on the prongs. You just have to watch your fingers. IMAGE 2
IMAGE 3
Condition: Good

Item number: AP-112 (brown)
Price: $10.00


Item number: AP-113 (light blue)
Price: $12.00
Description: Check out these two vintage handbags. One is a pastel blue leather with a gold color chain and clasp. The other is a brown handbag also with a clasp and gold color chain. Both in very good condition, neither of them have a name of the maker.
Condition: Very Good

Item number: AP-010
Price: $18.00

Description: ALLIGATOR CLUTCH. Not sure if this is a real skin or not but this cognac clutch looks fabulous just the same. Has goldtone border (shows a little age) on handle with double-snap closure. Small zippered compartment in interior.
Condition: Very Good

Item Number: AP-100
Price: $15.00
Description: C.1960's. Beautiful bag with criss-cross detailing at top. Purse has several faint rust-colored spots on fabric throughout.
Condition: Very Good
Measurements: Width-13 in (at tallest points) Height- 14 in

Item number: AP-005
Price: $12.00
Sale Price: $6.00

Description: C.1980's. Woven straw flowered bag from Jamaica. Zipper across top of bag. Beige lining. Slightly frayed on left top corner.
Condition: Good
Measurements: Width-13 in. across top and 9 in. across base Height- 10 in.
TAKE ME HOME
CLEARANCE

CASUAL DRESSES


DRESSY DRESSES

TOPS

SWEATERS

SKIRTS

PANTS/SHORTS

SUITS

JACKETS/COAT

LINGERIE

HATS


CHILDREN

ACCESSORIES



ORDERING AND PAYMENT INFORMATION
I will hold any item for seven (7) days for payment to be received. To put items on hold, just email me the item number and description. Feel free to email me for closer pictures or to get additional information about whatever you are interested in. To pay with credit or debit cards, you may pay through Paypal for all purchases over $20. Click here for more on ordering, payment, and shipping information.



QUESTIONS? READY TO ORDER? EMAIL CLARENDA@VESPERSVINTAGE.COM



Be sure to check out our
Frequently Asked Questions
RETURN POLICY


say your vespers............peace and blessings